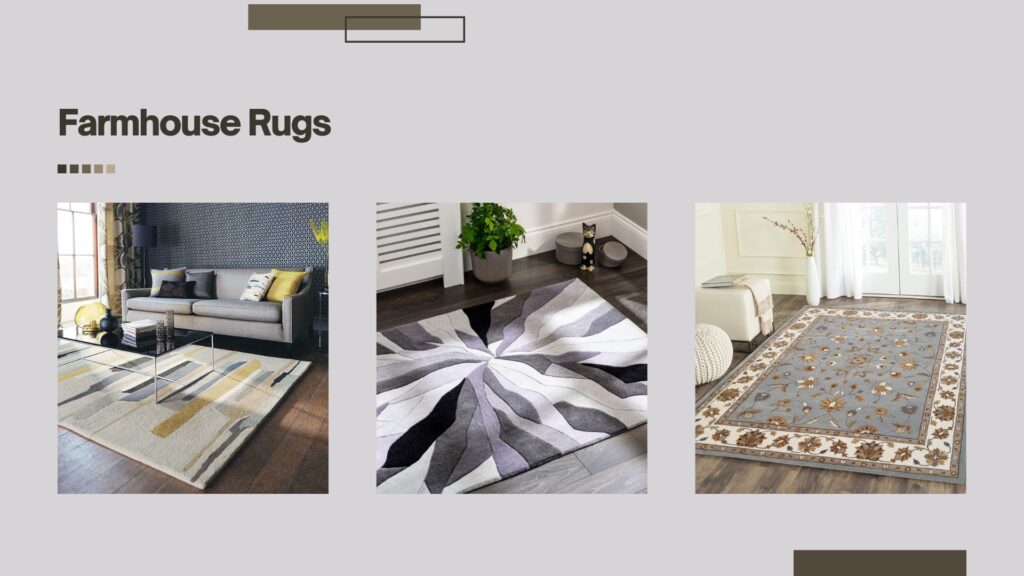 Bring the Charm and Warmth of Farmhouse Rugs into your Home
When we think of farmhouse decor, we often imagine a cozy, warm, and inviting atmosphere. Farmhouse style has come into the world of home decor in a big way in recent years, with countless people trying their hand at creating the perfect blend of traditional and modern styles. And when it comes to achieving that rustic and cozy farmhouse style, one essential element that cannot be overlooked is a farmhouse rug. These rugs combine traditional style with current design trends and can make all the difference in bringing your farmhouse-inspired interior to life. When it comes to farmhouse rugs, there are a few key features to look for.
Adds Warmth and Texture:
One of the main reasons why farmhouse rugs are so popular is their ability to add warmth and texture to any room. They come in a variety of earthy and natural colors such as beige, grey, white, and brown. These colors blend well with any design, whether it's a modern or traditional style. The texture of these rugs gives a cozy feel to the room, making the space more inviting and comfortable.
Reduces Noise:
Hardwood floors and tiles can have two main problems that farmhouse rugs can solve – noise and echo. Rugs have a significant effect on sound absorption, and the noise level in the room can decrease. Without rugs, vacuum cleaners, walking or even music can cause loud echoing sounds. Farmhouse rugs can help insulate the sound, reduce noise and create a sense of warmth.
Size and Shape:
When it comes to rugs, size and shape are the most important factors to consider. Depending on the room size and layout, you should choose the appropriate size of the rug. In a farmhouse-style living room, a larger area rug covering most of the floor space works well. In the dining area, a round or oval rug not only adds a touch of elegance but also helps define the space. For a bedroom, consider choosing a runner rug at the sides or foot of the bed.
Color and Pattern:
Farmhouse rugs are known for their earthy tones and classic patterns. They often feature stripes, plaids, and floral prints. Beige, neutrals, and muted colors are common choices for farmhouse rugs. The color and pattern of the rug should complement the room's color palette and other furnishings. Boldly colored or patterned rugs will draw attention while muted, neutral colors create a calming and grounding effect.
Materials:
The choice of rug material affects the durability, texture, and feel of the rug. Farmhouse rugs are typically made from natural materials such as wool, jute, hemp, or cotton. Wool rugs offer warmth and durability while jute and hemp rugs bring a rustic and natural feel. Cotton rugs, on the other hand, offer a soft and cozy feel. Consider your lifestyle and room usage when selecting the rug material.
Protects Your Flooring:
Rugs can help protect your hardwood floors or tiles. They can serve as a protective layer over delicate flooring or high-traffic areas. Furniture and foot traffic can cause scratches or dents which can be costly to fix, but placing a farmhouse rug in the right place can add an extra layer of protection, which prolongs the life of your flooring.
Maintenance:
Farmhouse rugs are known for their durability and easy maintenance. However, they still require regular care to keep them in good condition. Vacuuming once a week and spot cleaning spills immediately is recommended. Wool rug Maintenance should be professionally cleaned once a year while natural fiber rugs can be cleaned using mild soap and water.
Conclusion:
As you can see, farmhouse rugs offer the perfect compromise between traditional and modern styling. They're versatile, comfortable, and practical. To achieve the timeless and cozy look of a farmhouse interior, a farmhouse rug might be exactly what you need. Whether you're starting from scratch or simply adding in a few new pieces, the addition of a farmhouse rug speaks volumes about your interior design skills. So, go ahead; bring charm and warmth to your home with a farmhouse rug.